$2,700 Mechanical Toy a FakeBy
Mark Chervenka
$2,700 Mechanical Toy a Fake
When the auctioneer said "sold", Karen Delfino's parents thought they had bought their daughter a once in a lifetime birthday gift....a Victorian mechanical doll, or automaton.
But when it was opened, it created not only surprise but shock. The doll was a fake.
"At first, I didn't have the heart to tell them it was a fake. They had sacrificed so much to make it a special gift." Delfino finally told her parents, a retired couple in Indiana, that the doll was not authentic.
The doll was advertised as a "signed automaton" by John Martin of RAM Quality Auction of Joliet, Illinois for an auction March 10, 1996 at Homestead, Illinois (Fig. 5). Delfino, who lives in Texas, first learned of the doll through Martin's auction advertisement in Antique Week a weekly antiques newspaper. She saw the ad on a visit to her parents in Indiana in February. Delfino contacted Martin about the doll who sent photos of it to her in Texas.
Delfino was unable to attend the auction. Her mother, knowing Delfino's interest in the doll, went to the sale and purchased it for $2,700 plus 10% buyers premium, total $2,970. The doll was then put away and given as a surprise gift when Delfino made a birthday visit to her parents in May.
According to Martin the doll was included in a group of items picked up from a consignor "After the ad appeared," Martin said, "we sent out about 60-70 photos to people all over the country. None of them ever questioned it. The first time I heard anything about it not being right was 2½ months later."
Delfino was trying to get her parent's money refunded. According to Martin, the piece was sold "as is, where is" on sale day. "If there was a problem, it should have been reported right away. That way we may have been able to negotiate something with the consignor."
What makes this piece a fake?
Unlike a piece of glass or china, mechanical toys can be composed of literally hundreds of parts and pieces any of which may be repaired, replaced or missing. This problem is compounded in the case of automatons by their clothing or costumes which again may be made up of many different individual elements like shoes, buttons, etc.
The best way to examine such figures is with a black light. Black light quickly and accurately detects the majority of repairs, replacements and mis-matched parts. Without every having to take apart this particular figure or remove the mechanism, black light could have proved it was faked in seconds. How?
Clothing fabrics and most threads on pre-1920 dolls are made from natural fibers which do not fluoresce such as cotton, linen, etc. Modern fabrics and threads, made from synthetic materials such as rayon, nylon, etc., fluoresce brightly. The fabric of this doll's sleeves and collar fluoresce brightly as does the thread used to make the seams (Figs. 7-8). Even if genuinely old fabrics are used for a repair, the repair can be identified by the fluorescence of the new synthetic thread.
Parts not sewn together on this fake have been joined with modern glue which also glows brightly under black light. New glue is found where the slice of watermelon is attached to the hand, where the cord and tassel trim is applied, and where much of the clothing has been attached to the body to prevent its removal. Old glues made of natural materials, such as hide glue and glues made with flour and water, virtually never fluoresce.
Although the black light tests alone were enough to prove this piece a fake, it was also taken apart for an internal inspection. Incredibly, the new windup mechanism which drives the piece, was still nestled in its styrofoam doll body! The entire body and mechanism (Figs. 3-4) was stuffed up into a wooden barrel in which the figure sits. The barrel was then fastened to the base with 2″ nails sealing it from inspection.
The mechanism itself is about half plastic and half metal. It moves wires which give motion to the figure's arms and legs. This mechanism and body combination is available through modern doll parts catalogs for about $30-50.
The only pieces of this fake which may have the slightest claim to age are the textiles and trim applied to the base. But they never were originally associated with this figure. They are virtually identical in color to the velvet and trim on another fake automaton found in the market (see Fig. 11).
The faker tried to legitimize his creation by gluing a made up "J. Caron" paper label to the base (J. Caron, Paris, France; doll maker active ca. 1855-1890). This was photocopied from a book and distressed to give an artificial appearance of age and wear. The label has been applied with modern glue which fluoresces brightly under black light.
A Hard Lesson
Never make a purchase based on photographs alone unless you receive a written guarantee of age and right of return on the seller's letterhead. When buying at auction, keep in mind that what auctioneers say at the time an item is sold, takes precedence over what may have appeared in catalogs or advertising. This means that if an item is described or named in a certain way in an advertisement or catalog but is sold "as is" the day of the sale, the bidder cannot generally claim that the catalog or advertisement is the seller's guarantee of age, condition or value.
Regardless of where you buy--shops, shows, auctions, malls or elsewhere-- there is no substitute for thorough examinations and written guarantees of age and right of return.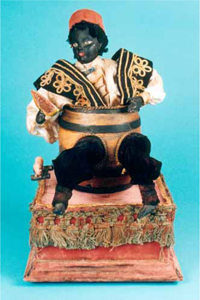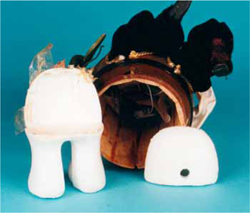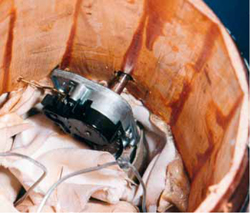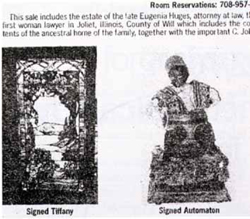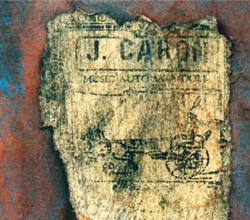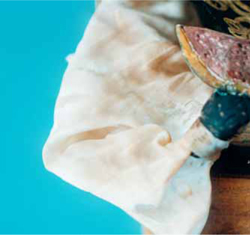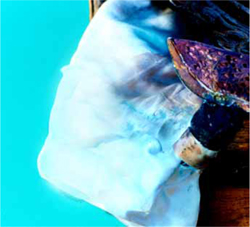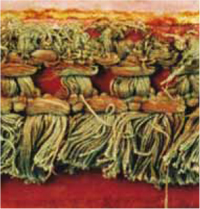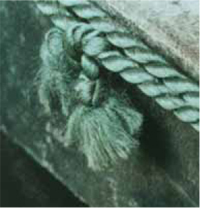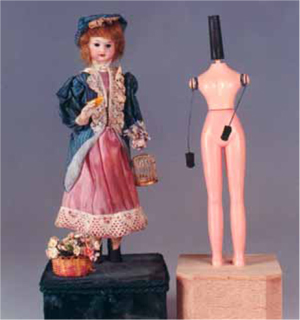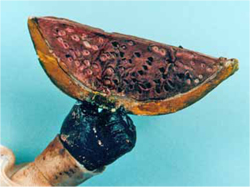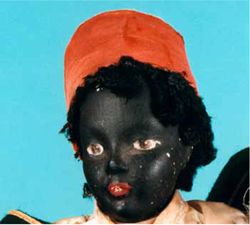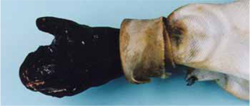 Real Or Repro is an industry resource powered by
a vetted marketplace of dealers and winner of numerous
Ecommerce Bytes Sellers Choice awards
for Quality, Usability, Customer Service, Communications and Most Recommended Selling Venue
---
So now,
Our Ruby Lane Shop Owners
invite You
to shop with them for the
Real Deal
on Ruby Lane ...