New Match Safes now being Marked SterlingBy
Mark Chervenka
New Match Safes now being Marked Sterling
An increased number of silver reproduction match safes were marked "sterling". For the average buyer, this change will make the detection of new matchsafes as well as other new silver more difficult.
Prior to late 1999 or early 2000, most new silver match safes were marked with only the number 925. The number 925 appearing alone was a virtual guarantee of a reproduction because it represents a modern silver standard agreed to by international treaty in the late 1970s. The 925 mark was agreed to so modern manufacturers could apply a single silver quality mark that would satisfy many nations and make international trade easier.
The 925 mark actually worked to antique collectors' advantage since practically no old vintage silver was marked with only 925. Genuinely old silver was usually marked with a particular nation's own unique words representing that country's silver standard. In the United States, the most common silver quality mark was "sterling". Now that "sterling" and 925 are both included on reproductions, marks alone have become a less reliable test of age.
Construction details are always a better test of age than marks. This group of match safes, for example, has a distinctive hinge feature. In genuine silver matchsafes, the hinge pin is almost always clearly seen as a separate piece (Fig. 6). In all five of the new sterling-marked reproduction safes shown in this article, all the hinge pins were covered or otherwise hidden from view (Fig. 5).
Although it might be possible to find a genuinely old silver match safe with a hidden hinge pin, it is very unlikely. If the same seller is offering more than one silver safe with hidden hinge pins, alarm bells should definitely go off.
Other features that are clues to a reproduction match safe include: 1) grinding or file marks anywhere on the safe; 2) strikers that are poorly formed, shallow or show artificial wear–some new match safes don't even have strikers; 3) poor detail and inferior workmanship such as crude seams. Don't be mislead by patina or other artificial wear. Most reproduction match safes are now sold with the inside darkened to simulate age.
All the match safes shown in this article were purchased in England for $14-$20 (US dollars). It is unknown in which country the new match safes are being made.
Special thanks to George Sparacio for providing the new match safes for photography.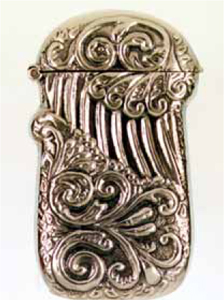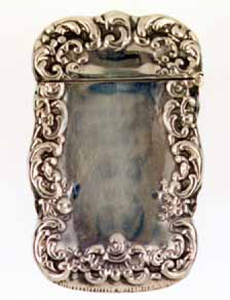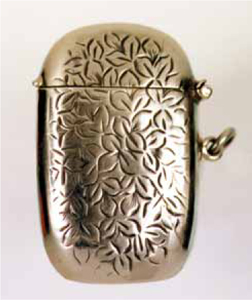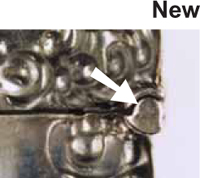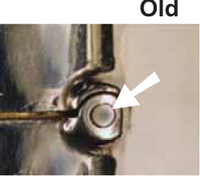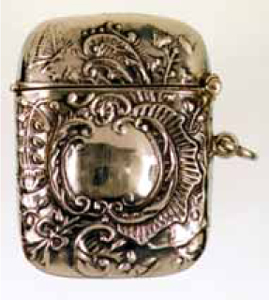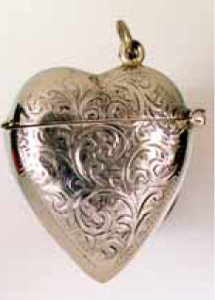 Related News on Match Safes and Small Silver boxes
Watch for New Enamel Inserts
A number of small sterling silver boxes are now in the market with confusing enamel inserts. What makes the pieces so confusing is that the inserts are, at least partially, true enamel.
A white enamel background is fired on a copper sheet which is simply glued to the silver. The reverse side of a new insert is shown in Fig. 11 with the copper clearly visible under the white enamel. The decoration is not painted; it is a transfer which is obvious under 10X magnification.
Vintage enamel work, of course, is applied directly to the silver; it is not a separate applied piece. The practice of applying enamel to a separate sheet then attaching it to an object didn't occur until the mid-20th century. And any time that technique is used on quality pieces, the separate sheet is soldered or attached with a bezel, not glued.
Black light is another effective way to catch the new inserts. The glue used to attach the inserts fluoresces bright white under long wave black light. This was true of all the samples examined for this article.
Our samples were all marked .925. Wholesale prices were all under $25 each.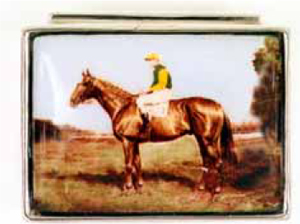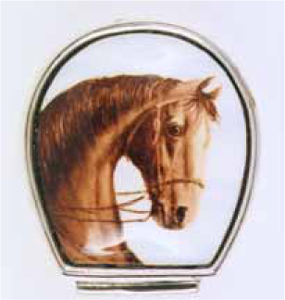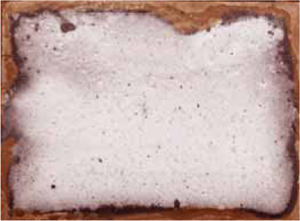 Tortoiseshell Applied to Match Safes
Another way fakers are "enhancing" new or low value old match safes is by gluing on tortoiseshell. Tortoiseshell has been widely seen applied to both reproduction and genuinely old match safes seen throughout the large antique markets in London, England.
Plain flat pieces of tortoiseshell are simply glued to the reverse side of both the body and lid. First, no authentic old safes were ornamented in this manner. Further, no early glue was capable of fastening two such dissimilar materials as shell and silver. This is only made possible by modern epoxy glues. The old way of mounting such materials, if at all, would have been to surround the shell with a silver bezel (rim).
Any safe with mounted with tortoiseshell should be viewed with suspicion. As a further test, most all of the modern glues fluoresce under long wave black light. Shine your light along the edges of the tortoiseshell.
Real Or Repro is an industry resource powered by
a vetted marketplace of dealers and winner of numerous
Ecommerce Bytes Sellers Choice awards
for Quality, Usability, Customer Service, Communications and Most Recommended Selling Venue
---
So now,
Our Ruby Lane Shop Owners
invite You
to shop with them for the
Real Deal
on Ruby Lane ...