Van Briggle PotteryBy
Ron Lindsey
Van Briggle Pottery - Current Shapes, Marks and Glazes Similar to Vintage Pieces
Most collectibles have some means of identification–factory mark, catalog shape, reference books, specific finishes or color. Van Briggle Pottery, however, often requires a close examination of more than just one characteristic.
That's because a number of shapes, marks and colors produced in vintage Van Briggle Pottery are still being produced today. The current Van Briggle mark, for example, is virtually the same as those used since 1920. Unless you have a pre-1920 piece, which was usually dated, you really can't be too sure if your piece was made in 1920, 1960 or 2000.
Therefore, before you can date a piece, you must consider which colors and glazes appeared on which shapes throughout the years. It's obviously beyond the scope of this article to show all the differences in all the shapes so we'll look at five shapes that illustrate the problems in dating Van Briggle.
History of Van Briggle Pottery
Van Briggle pottery has been made continuously since 1901 in Colorado Springs, Colorado. It was founded by Artus Van Briggle. Before moving to Colorado for health reasons in 1899, Van Briggle was a major decorator for Rookwood Pottery in Ohio. The Van Briggle Pottery Company built its success on soft dull (matte) glazes.
After Artus died in 1904, the business was taken over by his wife Anna and was renamed the Van Briggle Company. The business was reorganized again in 1910 as Van Briggle Pottery and Tile Company. Anna's involvement ended about 1912. Various managers and owners ran the business through the 1920s. In 1931, the business was renamed again as Van Briggle Art Pottery which it remains to this day.
DESIGNS AND GLAZES
The five shapes we'll look at are: 5″ Swirl Leaf bowl; 8½″ Columbine Vase; 8½″ Lily Bud Vase/Candlestick; 3″ Butterfly bowl; and 4″ Philodendron Leaf bowl.
The Swirl Leaf Bowl can be seen in the 1950s brochure listed as Design 150 and called "Blooming Tulip," priced at $6.95 each. The height was given at 5 1/2″ and width at 6″. All pieces were available in choice of Turquoise, Persian Rose, or Moonglo (white). The swirl leaf bowl is not seen in the 1977 catalog but has been produced since then.
The Columbine Vase appears on an advertising brochure from the 1940s. No price is given. Also, no mention was made of the glazes available. However, the vase does appear in the 1977 catalog, listed as No. 505, "The Columbine Vase, height 7½" and available in Turquoise Ming or Moonglo, priced at $8.50 each. Let me add that although the catalog does not state that the item was available in Persian Rose, I was able to purchase these items in Persian Rose in 2000 just by asking. If you look on the current web site or in the current catalog, you may not find Persian Rose available as a glaze. However, the glaze might available. When asking for Persian Rose in 2000, I was charged a 20% premium above the regular cost of $65.00 each.
The Lily Bud Vase/Candlestick appears in the 1950s brochure as Design 262 and is called "Bird of Paradise," listed at $3.95 each. It is advertised to hold a candle and flowers at the same time. It is also available in Turquoise, Persian Rose or Moonglo. The No. 262, "Bird of Paradise" is listed in the 1977 catalog as 8″ high and available in Turquoise Ming or Moonglo, selling for $5.50. In 2000, the item sold for $35.00 each.
The Butterfly Bowl is pictured in the 1907 catalog and is listed as 684 at 3″ high. To quote from the catalog, "The color range is wide and very suggestive of Colorado, reflecting with equal fidelity to nature the brilliant turquoise of the sky, and the reds, grays, browns, yellows, blues and purples which exist in striking effect in the crags and canyon walls, and in the more subtle tones of the incomparable dawn and twilight of the plains." This shape is also listed in Scott Nelson's book as Design # 684 produced from 1900 to 1912. It is not pictured in the 1950 brochure but does appear in the 1977 catalog that was mailed to this author. It was called the No. 684 Butterfly Bowl, available in Turquoise Ming (not Ming Turquoise as is the current use) or Moonglo which was white.
The Philodendron Leaf Bowl appears in the 1950s brochure as Design 847, an example "of eyelet embroidery in clay." Height is given as 4". This item did not appear in the 1977 catalog but was made in 2000 and sold for $65.00 each.
MODERN GLAZES
The Lily Bud Vase/Candlestick was available in 2000 in the following glazes: Persian Rose, Lilac Blue, Ming Turquoise and Dusty Rose. Most colors are self explanatory, but additional information is necessary to explain the highlights found on these glazes. Generally, Persian Rose and Lilac Blue are companion glazes. For example, Lilac Blue highlights Persian Rose, and Persian Rose highlights Lilac Blue. The same combination can be found with Ming Turquoise and Dusty Rose with each highlighting the other. However, there are times that a Ming Turquoise glaze will be highlighted with a type of blue, unlike Lilac Blue.
MARKS
A variety of marks are found on the new Van Briggle made today. A sample of six typical marks are shown below. All marks are hand incised in the wet clay with a stylus. A seventh with ink stamped markings is shown on this page in Fig. 9. Unfortunately, with the exception of the ink stamp, none of the new marks give a clear indication of their recent age. Many new marks could easily be confused with very similar marks found on vintage pieces.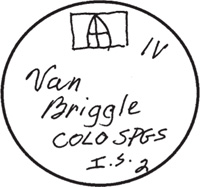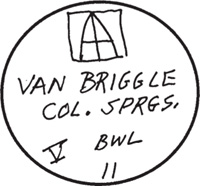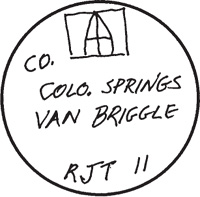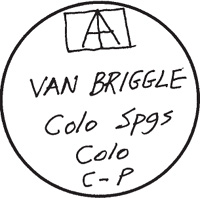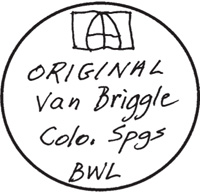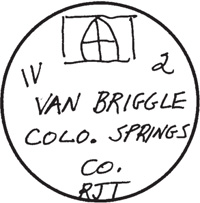 REFERENCES
There are three references available to help you date your Van Briggle. Scott Nelson and others published the 1986 edition of A Collectors Guide to Van Briggle Pottery. Richard Sasicki and Josie Fania authored The Collector's Encyclopedia of Van Briggle Art Pottery: An Identification and Value Guide, 1993; and finally Carol and Jim Carlton's Collector's Encyclopedia of Colorado Pottery: Identification and Values, 1994.
All three books offer excellent information. Nelson has given the collector a detailed accounting of logos that have been used from early Van Briggle to current production. He also has included the "Catalogue of Van Briggle Designs" which presents 766 authenticated Van Briggle designs from the period 1900 to 1912. Sasicki and Fania have attempted to give a detailed chronological listing of Van Briggle products, with color photos and descriptions. Lastly, Carl and Jim Carlton have included an invaluable two pages from a 1950s Van Briggle catalog or brochure which gives us definite proof that some items produced in the 1950s are currently being produced. A 1977 company catalog also highlights several items produced again today.
Ron Lindsey is a long time Van Briggle collector and dealer in antiques from Pasadena, Texas.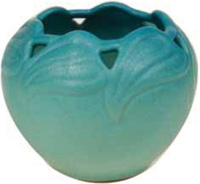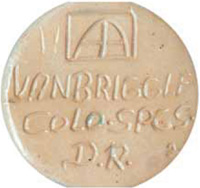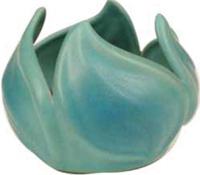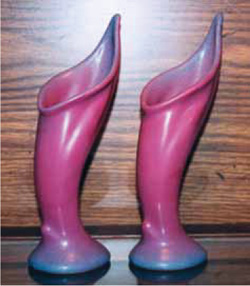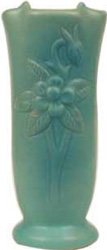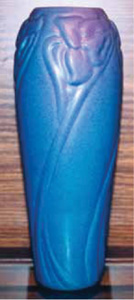 History of the Butterfly bowl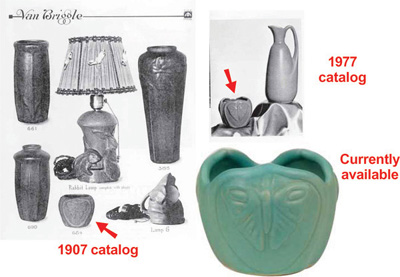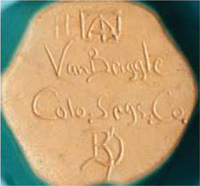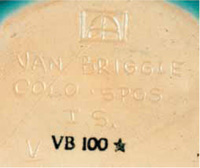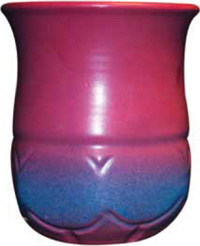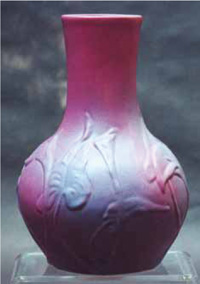 Van Briggle Pottery is no longer in operation.
Real Or Repro is an industry resource powered by
a vetted marketplace of dealers and winner of numerous
Ecommerce Bytes Sellers Choice awards
for Quality, Usability, Customer Service, Communications and Most Recommended Selling Venue
---
So now,
Our Ruby Lane Shop Owners
invite You
to shop with them for the
Real Deal
on Ruby Lane ...